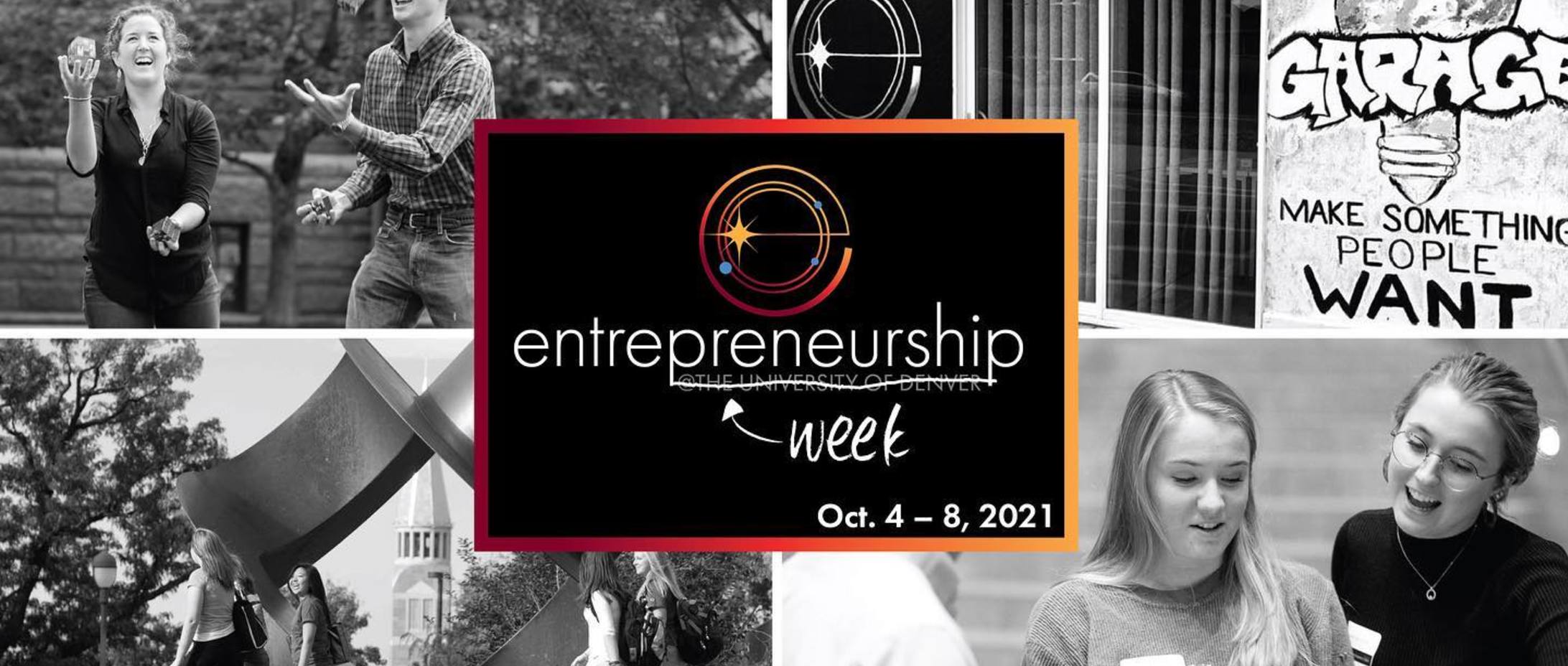 Thursday, Sep 16, 2021
Entrepreneurship Week at the University of Denver
Join the University of Denver's Entrepreneurship@DU team, in partnership with Denver Startup Week, for a weeklong celebration of ideas, innovation and creativity during Entrepreneurship Week Oct. 4–8.
The festivities kick off on Monday with a launch party on the University of Denver campus, where current DU students and local entrepreneurs will share their emerging business ideas. On Tuesday, Oct. 5, DU will host the Outdoor Recreation: Sustainability, Access and Opportunity panel with:
• Project Developer of Torch Clean Energy Michelle Zimmerman
• Founder of COVENTURE Michael Lowe
• Executive Director of the Colorado Fourteeners Initiative Lloyd Athearn
• CEO of Outside Robin Thurston
• Moderator Scott McLagan, professor of the practice at DU's Daniels College of Business
On Wednesday, Oct. 6, the following panelists join us at the Denver Startup Week headquarters in downtown Denver for the keynote event, Profit: The Byproduct of Purpose.
• CEO of Delta Dental of Colorado Helen Drexler
• Managing Partner at Avesta Fund Srikant Vasan
• CEO of PocketChange Reyn Aubrey
• Founder and Director of Blue Room Minyoung Sohn
• Co-founder and Co-CEO of NPX Lindsay Beck
• Moderator Tricia Olsen, PhD, associate dean for undergraduate programs; associate professor, Business Ethics & Legal Studies; and Marcus Faculty Fellow at the Daniels College of Business
On Thursday, Oct. 7, DU will host The Business of Art: How Creatives Can Build Economic Value for Themselves, an interactive art exhibit and panel discussion with:
• Artist Thomas "Detour" Evans
• Co-founder and Executive Producer of Mass FX Media Shawna Schultz
• Founder of IRL Art Annie Phillips
• Founder of Meow Wolf Corvas Brinkerhoff
• Moderator David Moke, director of Night Lights Denver and co-founder of the Understudy arts incubator
Closing out the week is a student pitch competition in partnership with Pioneer Venture Group at DU's Burwell Center for Career Achievement. Register for the panels through Denver Startup Week's website.
Entrepreneurship@DU is a University-wide program housed within the Daniels College of Business. We give students the freedom and space to explore their interests, passions and purpose. We encourage students and provide the support to think big, disrupt, solve problems and make an impact. Visit our website to learn more.